While at the American Cheese Society conference in Pittsburgh, PA, I interviewed thirteen cheese professionals and one agriculture expert. This one is with Malory Lane, an American who is working as a cheesemonger in Tokyo, Japan. She recently took the cheese certification exam—in Japanese! She is the first westerner to take the exam.  Impressive!
The interview: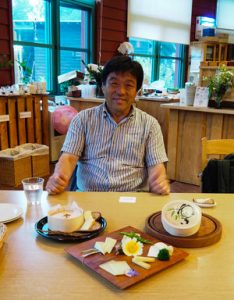 Pictured on the left is Nozomu Miyajima (Photo credit: Malory Lane)  I found her blog post titled Hokkaido Cheese Trip: Kyodogakusha, especially interesting. She interviews cheesemaker, Nozomu Miyajima, whom she mentions in our interview. She's obviously, a talented writer. Here's an example:
 "The clouds rested softly on the lowest hills around Shintoku, hiding the forest-covered mountains. We alighted the train and it continued into the shrouded landscape. Waiting for us at the   town station was Nozomu Miyajima, the friendly CEO and cheese master at Kyodogakusha. We felt immediately welcome at our first stop in Hokkaido."
Nozumu was trained in Wisconsin! She explains:
"Almost 40 years ago, Nozomu Miyajima moved to the US to work on a dairy farm in Wisconsin. After 2 years on the farm, he enrolled in the dairy sciences program at Wisconsin University. Instead of staying in the US, Miyajima returned to Japan to open a dairy farm on 30 acres gifted to him by the Shintoku government. The only catch was that he would provide work for people in the community who might otherwise be unemployable."  
I hope you enjoy reading Nozomu's story (and others on her blog), and watching the video interview. Please Share the video link on your social media pages.  To learn more about Malory, visit her website:  www.thegeographyofcheese.com/.  She writes a lovely blog about the cheese scene in Japan:  ttps://www.thegeographyofcheese.com/blog.  Her photos are stunningly beautiful.
ありがとう Arigatou (Thank you)
Malory's tasting session at ACS was attended by fifteen curious cheese professionals and was titled "Cheese Pairings from the Far East."  Tenaya Darlington, known as Madame Fromage, took this photo.   Thank you, Tenaya.