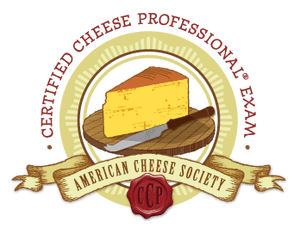 In June 10-14, 2018, I taught the basics of Cheese Nutrition for the Facebook Cheese Study Group, in preparation for the Certified Cheese Professional exam.  This year's exam date was July 25 at the ACS Conference, in Pittsburgh.
5 SAMPLE EXAM QUESTIONS FOR DOMAIN 1:  NUTRITION
Written by Babs Hogan, M.Ed.
1)  Amino acids are the building blocks of protein.  Select the correct type of proteins that must be supplied through the diet because the body cannot make them.
a)  Essential
b)  Non-essential
c)  Branched chain amino acids
d)  Short chain amino acids
Answer:  A
2)     Bone health starts at birth.  Specific nutrients are vital for developing and maintaining bone strength.  Select the correct combination of nutrients that are known to fortify bones.
a) Calcium, Vitamin C, Vitamin B3
b) Calcium, Vitamin B2, iron
c) Calcium, boron, Vitamin B2
d) Calcium, phosphorous, magnesium
Answer:  D
3)   Select the correct vitamin that shuttles calcium out of coronary arteries to bones and teeth.
a)  B1
b)  K1
c)  K2
d)  B3
Answer:  C
4)     Omega-3 fatty acids are found in milk of grass-fed animals, especially in fields with a diverse supply of herbs, flowers, and grasses.  What role does Omega-3 fatty acids play in human health?
a) Improved brain function (cognition)
b) Improved night vision
c) Improved dental health
d) Improved muscular strength
Answer:  A
5)  Many people avoid full-fat cheese due to its high level of calories, cholesterol, and saturated fat.  Recent research shows that dairy fat may play a preventative role against heart disease.  This is great news for cheese lovers!  For those who eat the typical American diet that includes highly refined carbohydrates, high amounts of sugar, low amounts of fiber, and low amounts of healthy fats, full-fat dairy may reduce the risk of heart disease by approximately what percent?
a)  9%
b)  19%
c)  69 %
d)  99%
Answer:  C
*This ends the questions*
HERE'S THE REVIEW VIDEO:  Babs Hogan's Top Slides Domain 1:  Nutrition.   https://youtu.be/0uFkX6t7mV0
Uploaded June 18, 2019



ACS BOK Domain 1.  Butter. Day 3 (text only)
3 Segments:
1)  Seven Benefits of Grass-Fed Butter:  Written by Dr. Axe
Anti-Inflammatory
Better for Heart Health
Excellent Vitamin A Source
Energy-Boosting and Appetite-Suppressing MCTs
High in Anticancer CLA
Rich in Vital Cholesterol
Source of Arachidonic Acid
Source:  https://draxe.com/grass-fed-butter-nutrition/
2)  For a Healthy Heart, Stick to Butter:  Written by Chris Kresser
https://chriskresser.com/for-a-healthy-heart-stick-to-butter/

3)  10 Reasons to Eat More Fat:  Written by Jennifer Callihan
Source:  https://www.eatthebutter.org/science#science-2
1:  RAISE HDL
Science says: Adding saturated fat and subtracting carbohydrates raises HDL — your "good" cholesterol.
2:  LOWER BAD TRIGLYCERIDES
Science also says: Adding saturated fat and subtracting carbohydrates lowers triglycerides— and you want these low.
3:  LESS LIVER FAT
Cutting way back on dietary carbs and substituting fat can quickly begin to reverse NAFLD (Non-Alcoholic Fatty Liver Disease), which affects about 1/3 of American adults.
4:  LESS HUNGER
Fats are energy dense, so you feel satisfied and full—and stay that way until the next meal. Fats help you say goodbye to HANGRY.
5:  STABLE BLOOD SUGAR
Fat provides calories without a blood sugar roller coaster ride. So you can fill up without a blood sugar spike and the crash that follows. Plus, a diet high in fat and low in carbohydrates lowers your blood sugar, which is great for fighting type 2 diabetes.
6:  BETTER VITAMIN ABSORPTION
Fat with food improves vitamin and mineral absorption, including Vitamin D, calcium and other micronutrients. So you'll get more from your veggies if you add butter!
7:  REDUCE FILLERS & SUGAR
Keeping the natural fats in foods keeps sugar, artificial flavors, and thickeners out.
8:  HARMLESS
Saturated fat is harmless. Humans have been eating saturated fat for millennia. There's no reason not to keep right on eating it.
9:  AFFORDABLE & EASY
Fat makes meat affordable, easy to cook, and juicy. Leaner cuts of meat are more expensive and more likely to be tough rather than tender when you cook them.
10:  TASTIER FOOD
Fats carry the flavor of food. Creamy dips or melted butter make veggies taste sweet and luscious, instead of bitter and boring. And natural fats taste great all by themselves. In a word: butter.
***

ACS BOK Domain 1:  Day 4.  Benefits of fat in cheese.  This is not a powerpoint presentation.  There are two segments:
ACS BOK Domain 1.  Day 5.  Protein (no powerpoint)
The Facts About Milk's High-Quality Protein
When it comes to protein content, milk hits it out of the park. But milk is more than a good source of protein for your kids and for you. It also offers eight other essential nutrients, including calcium, vitamin D and potassium — nutrients that most Americans – including children – are missing in their diet.
How much protein is in milk? You'll find two types of protein in milk: whey (20 percent) and casein (80 percent). Both are considered high-quality proteins because they contain all essential amino acids in sufficient amounts to qualify milk as a good source of protein.
Milk is also a complete protein, which means that every glass contains a full mix of the essential amino acids our bodies need. Most plant-based protein sources are not considered complete proteins and other foods like protein bars often try to compensate for their lack of natural protein by adding in soy protein isolate or other processed forms of protein alongside added ingredients, like sugar.
Plus, a recent study suggests a diet rich in milk protein is associated with better bone strength (higher bone mineral density) compared to some other patterns high in popular protein sources, like red meat.1
Milk is a simple, wholesome and affordable choice kids love that can be enjoyed in a glass, cup or bowl. You also can find it any many forms – from fat free to whole to organic. Where else can you get 8 grams of protein, along with 8 other essential nutrients, for only 80 calories — all for around a quarter a glass? Nowhere, except in fat free milk.
Milk is also a great post-workout beverage. In fact, lowfat chocolate milk has the right protein-to-carb ratio scientifically shown to help you recover after a tough workout.
***Ends protein***